Full Mouth Dental Implants in Milwaukee WI
---
---
Living with missing teeth is challenging. Fortunately, you don't have to suffer with a damaged smile forever. Community Oral and Maxillofacial Surgery is proud to help our patients regain their quality of life with implant-retained dentures. Here's what you should know about how they can benefit you as you are scheduling your consultation appointment with us.
When there are no remaining teeth in the mouth (or when the remaining teeth in the mouth are of questionable prognosis), a few options exist for replacement of the teeth with full-mouth dental implants. These options are:
1- Implant-retained dentures
2- Implant-supported dentures
3- All-on-X® concept which is often referred to as teeth in a day
Why Would You Seek Implants If You Already Have Dentures?
---
Dentures are not an ideal replacement for missing teeth. Complete dentures replace all teeth in the mouth, and partial dentures replace a few missing teeth. In the case of complete dentures, the retention (or stickiness) of the denture is through suction and contact with the gum tissue. Often, the tissue has irregularities or is minimal in its volume, making the denture more prone to moving around or even coming out during normal daily activities, such as eating and speaking. On the other hand, partial dentures can be attached to natural teeth. This makes the partial denture a bit more adherent and less likely to move. Partial dentures are also not ideal and can affect natural teeth that are used to support them. Additionally, they could move around in certain situations and especially if there are many missing teeth.
Full-mouth dental implants provide more confidence with speech, eating, and smiling without the fear of dentures moving around. They also allow for improved taste and better enjoyment of more nutritious foods.
---
---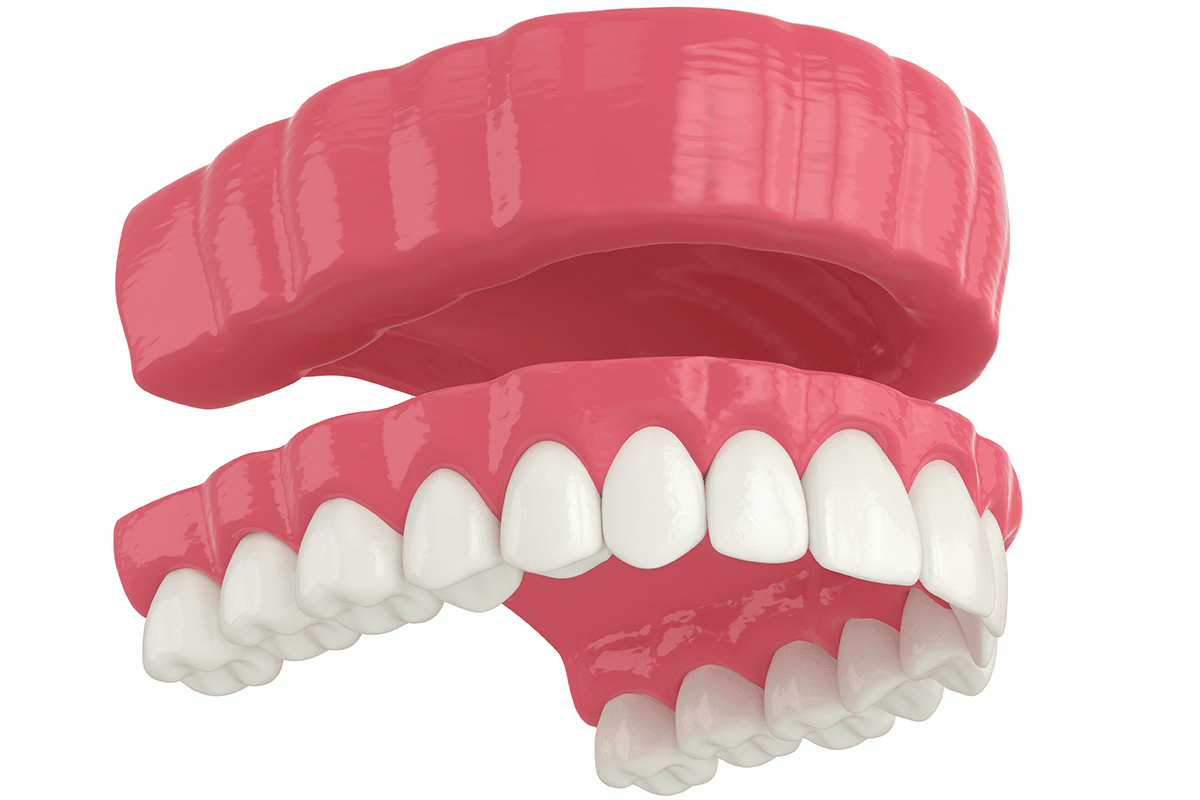 Conventional dentures only use suction or adhesive to stay in place.
---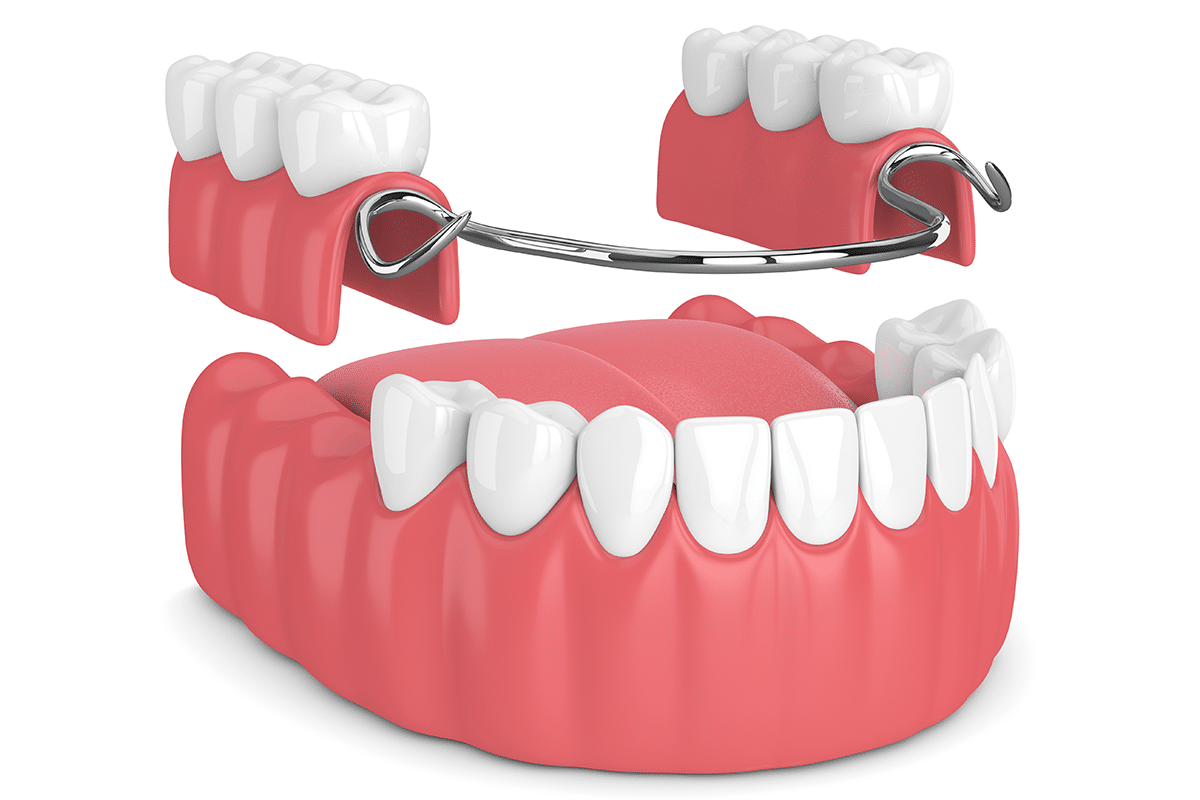 Partial dentures use the remaining natural teeth for support.
---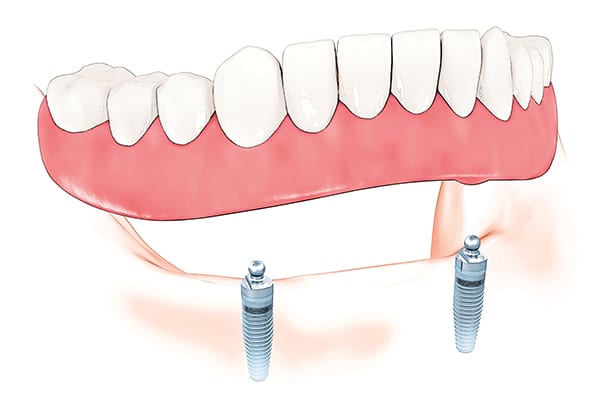 Dentures stabilized by dental implants provide more comfort and stability.
What Are Implant-Retained Dentures?
---
Implant-retained dentures are "snap-on" removable dentures that are secured to implant attachments. They have better retention and are less bulky than the traditional or conventional dentures, allowing a better taste experience with food, less gag reflex, and easier adaptation. Implant-retained dentures do come in and out of the mouth. They are not fixed in place. Removing your implant-retained dentures is important to clean them and the implant abutments as needed.
In the case of complete dentures, implants will act as anchors making it less likely for the denture to move around. The implants will fuse with the bone after a healing period of 2-4 months. Once that occurs, the implant will have an attachment screwed into its channel and torqued into place. That attachment is most frequently referred to as a "locator" abutment. The denture will then be adapted to fit the locator abutments via elastic rings (often called O rings). This connection between the O rings and the locator abutment will allow the denture to snap into place. The additional security with these attachments brings some peace of mind, a better ability to enjoy more nutritious food, and easier phonation and speech.
In the case of partial dentures, implants can do the same thing as they would with complete dentures. In instances where we prefer not to use the existing teeth as anchors, implants can provide additional stability to the partial dentures.
What are Implant-Supported Dentures?
---
Using four to six implants, a toothless jaw can be fitted with a fixed prosthesis to replace the missing teeth. The prosthesis can be much smaller than the traditional denture and is not removable by the patient. It is usually screwed into the dental implants that act as anchors in the upper and lower jaw.
What is the Difference Between Implant-Retained Dentures and Implant-Supported Dentures?
---
---
Implant-retained dentures are removable. Patients can take them in and out. They receive support from the remaining tissues in the oral cavity. They are much less bulky than traditional dentures. However, they still need some extension areas to gain the support mentioned above. The implant-supported dentures are screwed into the implants; they can't be removed at home. They're less bulky than implant-retained dentures but require extensive surgery. They're usually called "teeth-in-a-day" or "all-on-4 dentures."
---
---
How Long Do Implant-Retained and Implant-Supported Dentures Last?
---
One of the most significant benefits of full mouth dental implants is their life expectancy. By practicing good oral hygiene habits at home, you can expect your dental implants to last a lifetime without having to be replaced or adjusted. 
Implants are affected by gum disease just like natural teeth are. Therefore, maintenance, good oral hygiene, including daily use of a water flosser, and routine follow-up visits with your dentist and/or prosthodontist are essential to keep the implants healthy. The implant-retained or implant-supported denture itself (the teeth part) is expected to last a while but does require replacement every few years depending on wear and tear. 
It is important that anyone embarking on this journey be aware that for successful implants with good longevity, maintenance is as important as the surgery itself. The process of having successful and long-lasting full-mouth tooth replacements is a life-long commitment on the part of the patient and the dental implant team.
Why Choose Community Oral and Maxillofacial Surgery?
---
Being the only dental implant robotic practice in Wisconsin allows Dr. Khader and her team to place these implants exactly where they need to go. Our practice has remarkable technologies and works with exceptional laboratories to produce the most reliable results. More importantly, Dr. Khader and her team listen to our patient's needs, fears, and apprehensions. Being fitted for dentures and dealing with them can be challenging. We at Community Oral and Maxillofacial Surgery will do our best to prepare our patients for life with implant-retained dentures. This includes talking about changing food habits, nutrition consultations, setting expectations, creating an open and judgment-free environment, and allowing patients to express any emotional challenges that may come with this process. The best part of this process for us is celebrating with our patients once they receive their final set of teeth and can smile and eat with ease. Contact us today to schedule your consultation with our friendly team!
---