Dental Implants in Milwaukee
---
---
Community OMFS provides dental implants in Milwaukee, WI. Call 414-810-1707 to learn more and schedule an appointment.
---
Why should I consider dental implants?
---
Although having a beautiful smile and the confidence that comes with it are important, there are also important health reasons to have dental implants. Whether replacing one tooth or several, implants are an important solution for restoring and maintaining dental health.
Implants are the best solution for simulating the look, feel, and function of natural teeth. Dental implants do much more than replacing missing teeth. They help maintain bone structure, provide the ability to chew healthy food and give patients the confidence to smile. Unlike traditional bridges, implants do not sacrifice the structure of neighboring healthy teeth. Implant replacement solutions, therefore, help maintain healthier neighboring teeth predictably and reliably.
What is a Dental Implant?
---
Dental implants are small anchors made of a biocompatible metal called titanium that are placed in the jawbone. Dental implants are the replacement of tooth roots in the mouth. Once placed, the anchors begin to fuse with the bone over the course of a few months. After the fusing process, known as osseointegration, abutment posts are inserted into the anchors to allow for the permanent attachment of the replacement teeth.
---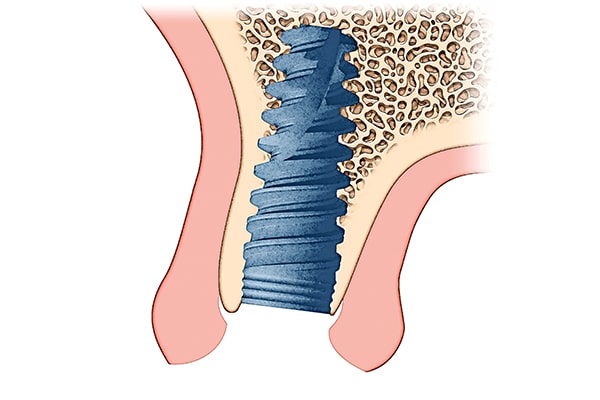 Implant Placement Uncovered Implant
---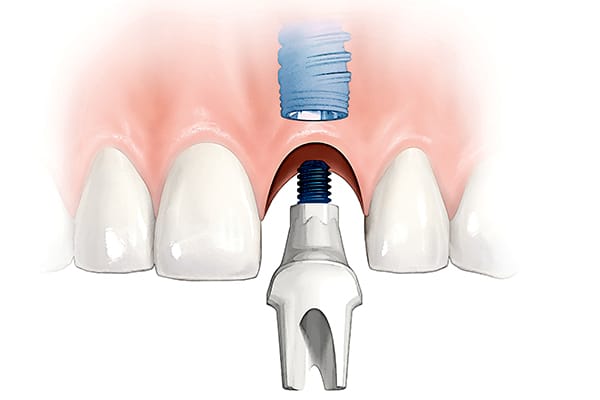 Anterior Single Tooth Abutment
---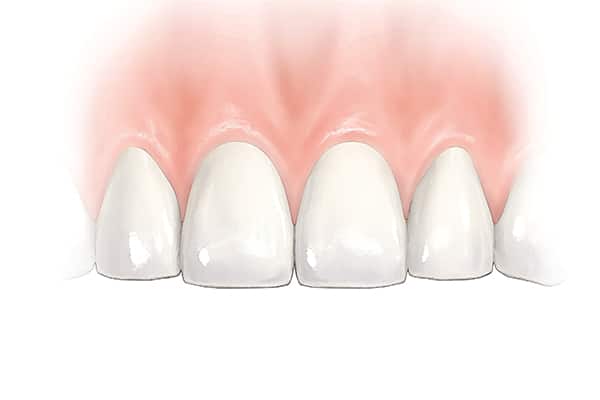 Anterior Single Tooth Final
---
Tooth loss starts a cascade of events that leads to bone loss and migration of teeth into the space that the tooth was occupying. Replacement of extracted teeth helps mitigate some of the adverse effects that are caused by the loss of these teeth. You may choose not to have a tooth replaced, and your dentist and oral and maxillofacial surgeon may advise you not to replace a tooth. If you are advised to have a replacement, you will be informed that you have a few replacement options.
---
A single dental implant can replace a missing or extracted tooth independently of the surrounding teeth. It requires planning by the oral and maxillofacial surgeon and coordination of care with your dentist or prosthodontist. With the use of the Yomi® Robotic Assisted Surgery, the planning process is more precise, and the implant placement is efficient and accurate.
Generally, an implant can be placed a few months after a tooth extraction. However, and in select cases, an immediate implant can be placed. Healing time, called Osseointegration, is allowed. Depending on the type of bone that the implant is placed in, this can range from 2 to 4 months. Once that time has lapsed, Dr. Khader will ensure that the implant is stable via clinical and radiographic examination. The implant will then receive an abutment which will serve as the base or foundation of the final crown. The crown may be held in place with a screw or with cement.
---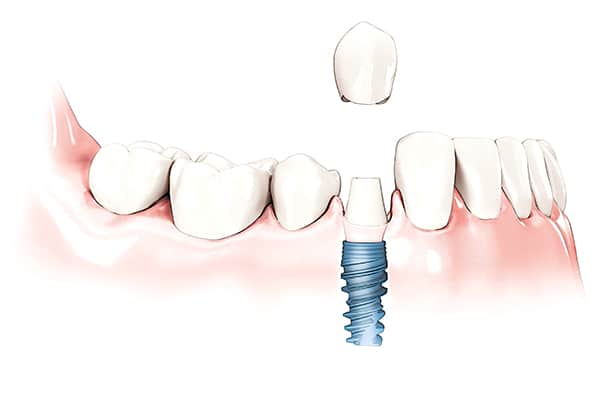 Single Implant with Cemented Crown
---
---
Immediate Tooth Replacement
---
In select cases, Dr. Khader will be able to remove the tooth in question and place a dental implant immediately. This process will minimize the time between tooth loss and replacement. Even though the dental implant will still have to go through a process of osseointegration (fusing to the bone), you may be able to have a temporary crown placed on the same day as the implant placement.
Talk to you team at Community Oral and Maxillofacial Surgery to see if you are a candidate for same day replacement of your tooth.
---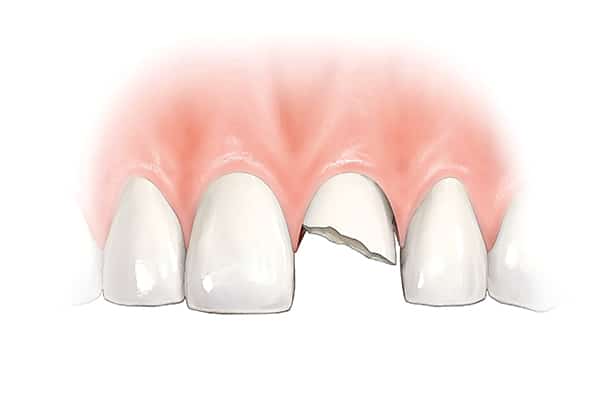 Anterior Single tooth: Broken
---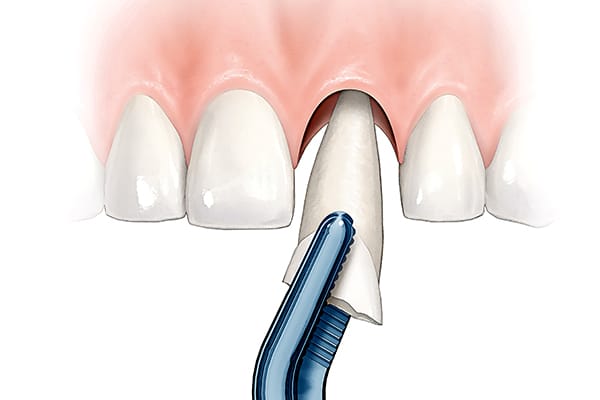 Anterior Single tooth: Extraction
---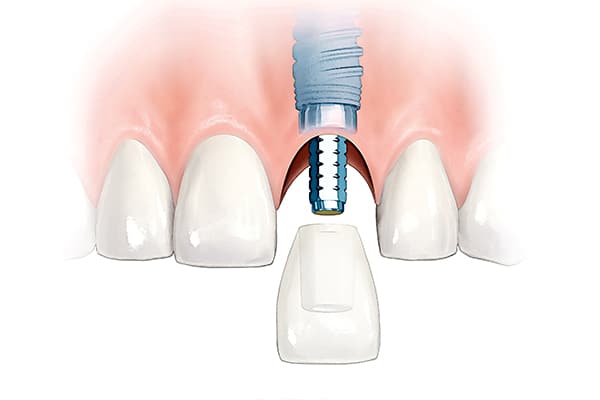 Anterior Single tooth: Immediate Temporary
---
Multiple Tooth Replacement
---
An implant supported bridge is a restorative solution for spaces where three or more adjacent teeth are missing. This restoration typically requires two implants to support the bridge that provides a functional and aesthetic replacement for a patient's natural teeth.
---
---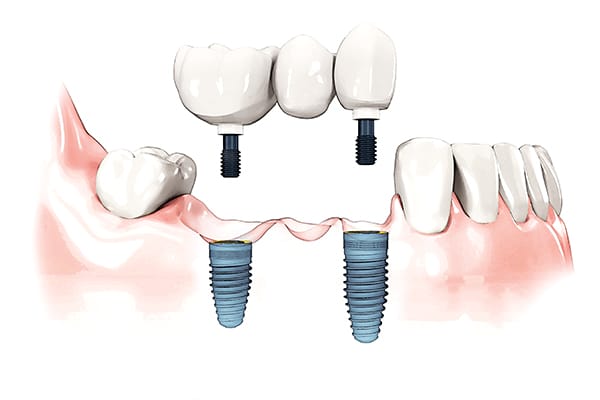 Implant Bridge: Screw Retained
---
---
Fully Edentulous (Toothless) Solutions
---
For patients who are missing all of their teeth, implant retained dentures or implant supported dentures may be an alternative to traditional dentures. These solutions can simulate the look and feel of natural teeth and remain in place with the implants acting as anchors. Using implants for retention or support of dentures allows for a smaller and more comfortable base and less shifting of the prosthesis during use.
---
Implant Retained Dentures

Using two to four implants, the removable denture will "snap" in place allowing for a more secure denture fit. The denture can be made slightly smaller and more comfortable. The removable denture will require less or no denture adhesive material and will provide a better fit. The restorative dentist or prosthodontist will connect small ring attachments or a connecting bar to the dental implants to allow for the denture to snap into place.

---

Implant Supported Dentures

Using four to six implants, a toothless jaw can be fitted with a fixed prosthesis to replace the missing teeth. The prosthesis can be much smaller than a traditional denture and is not removable by the patient. It is usually screwed into the dental implants that act as anchors in the upper of the lower jaw. Dr. Khader will work closely with your restorative denture or prosthodontist to plan this procedure.

---
---
Solutions for Terminal Dentition
---
---
Teeth in a day (All-on-X concept)
---
This procedure is a unique implant solution that allows patients with a terminal dentition that can no longer be restored to replace all of the teeth with a fixed prosthesis utilizing four to six implants as anchors.
---
---
Guided Dental Implant Placement
---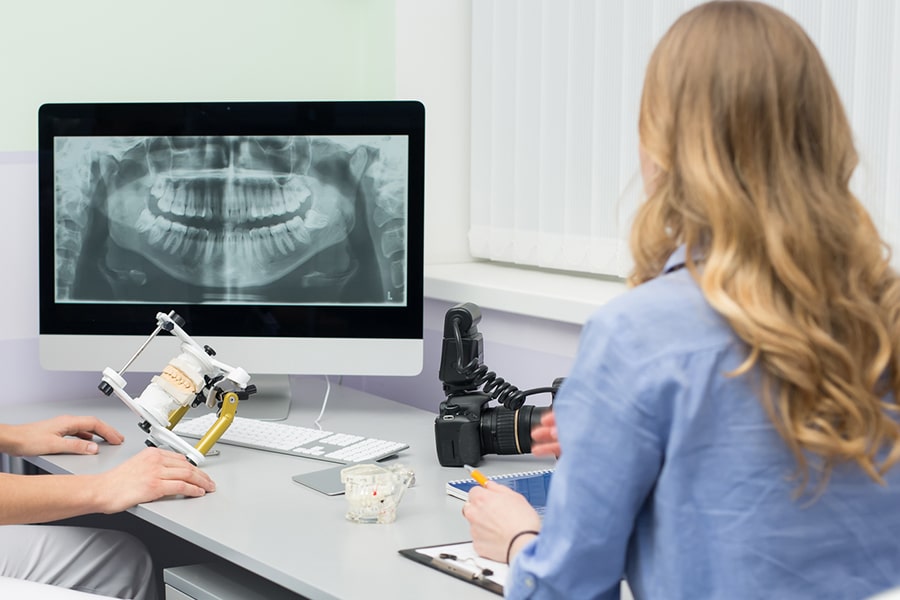 ---
Using advanced dental implant technology and custom 3D digital surgical guidance, Dr. Khader can place dental implants on the same day with the utmost accuracy and, in some cases, using a minimally invasive technique.
Specialized software will allow Dr. Khader to plan for the implant placement procedure and will allow the patient to visualize the future location of the implant and how it would support the final restoration. Once planning is complete, Dr. Khader can use specialized software to create a surgical guide that will be placed during implant placement.
---
Yomi® Robotic Assisted Surgery
---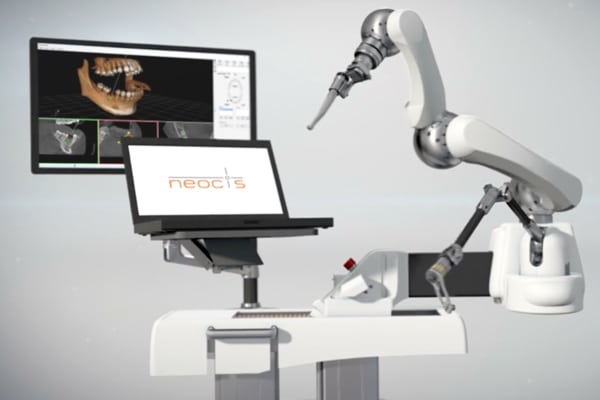 ---
---
Offering convenience, efficiency, and accuracy in dental implant placement, Yomi robotic assisted surgery can utilize the patient's CT scan to create a 3D navigational tool that will assist Dr. Khader in placement of the dental implant with the utmost accuracy.
---